Napoleonic Soldier
Because of their cost, these would probably be considered collectibles designed for adults or for display at a living history event rather than toys subject to the common wear and tear that occurs when toys are played with.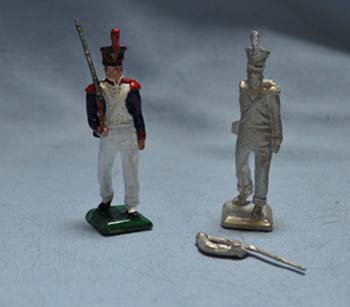 In the Hans Christian Andersen story The Resolute Tin Soldier the soldier of the title and his comrades are described as wearing the smartest red and blue uniform. It would have been logical that the model for the story, first published in 1838, would have been a soldier from the Napoleonic era. So we have chosen this particular style as also being a type of soldier likely to have been available during the civil war period.
The pictures show a finished soldier as well as a kit. This one is different from the Coldstream Guard in that one arm is cast separately and must be glued on. Like the Coldstream Guard, the kit is less expensive but will need to be finished and painted. The soldiers stands about 54mm (just a bit more than 2 inches) tall.
The metal used in making these soldiers is pewter. They do have the potential for points so, if used for play, that play should be supervised.
The finished soldier is $ 15.00.
The kit form is $ 7.00





If you want to look at the previous soldier alphabetically in the list,
the Coldstream Guard,
click here
.
If you want to look at the next soldier alphabetically in the list,
the Civil War Soldiers,
click here
.