Coldstream Guard
Because of their cost, these would probably be considered collectibles designed for adults or for display at a living history event rather than toys subject to the common wear and tear that occurs when toys are played with.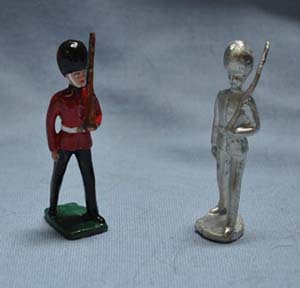 The Coldstream Guards are one of the oldest units in the British army. Without getting into a discussion of which unit is first (do a search for their history for a full discussion), it can safely be said they have a long and distinguished history. During the Crimean War, their uniform was particulary showy with the red coat and large bearskin hat. Possibly because they so much fit the image of a soldier that a soldier similar in appearance is often shown in period publications when discussing toy soldiers.
The pictures show a finished soldier as well as a kit. The kit is less expensive but will need to be painted. The soldiers stands about 54mm (just a bit more than 2 inches) tall.
The metal used in making these soldiers is pewter. They do have the potential for points so, if used for play, that play should be supervised.
The finished soldier is $ 15.00.
The kit form is $ 7.00





If you want to look at the next soldier alphabetically in the list,
the Napoleonic Soldier,
click here
.