About Us
We started doing civil war living history in 1988 and have been "hooked" ever since. Michael and Virginia were accompanied in those early years by their three sons (ages 7, 9, and 11 when we started) and quickly found that a dearth of activities and experiences designed for children existed at events. That realization got Michael distracted from being a soldier and, instead, sent him researching children's toys, games, and other activities.
Virginia, meanwhile, not content with the fashion shows and teas that were the extent of many civilian programs, turned a home economics background (except she hates to sew!) into research of the every day life of people during the nineteenth century.
The result, as far as this web site is concerned, is a collection of period toys, games, and other amusements as well as civilian sundries and a collection of books that will help readers increase their understanding of the lives of our ancestors who lived during the 19th century. We have also added a collection of articles -- mostly by Virginia -- for your reading pleasure.
The proprietors, Michael and Virginia, are also available for consultations, speaking, exhibits, and demonstrations. And if you or your staff don't have the time or resources available to research topics dealing with everyday life, Virginia may be able to assist you. Please contact us directly for details.
And Now

You Asked for It!!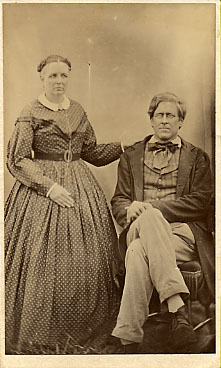 The Proprietors
Virginia Mescher - Vintage Volumes
Michael Mescher - Ragged Soldier Sutlery
If you are so inclined, you could use this picture to frighten cats and small children. We really do look like Mr. and Mrs. Grim!
This image was prepared by R. R. Morgenweck in the summer of 1999 at the 136th anniversary of the Battle of Gettysburg. The photographer uses the same equipment and techniques of the civil war era photographers.
To explain our expressions, their are different ideas about why the people looked so serious. One theory is that the chemicals used in the photographic process were much slower acting than today's dry films. Consequently, if the picture had been taken indoors, subjects might have had to hold their pose for 1 to 2 minutes. For such long exposures, photographers even employed iron frames to clamp on to the back of the subject's head to help hold them steady. For long exposures, you also cannot hold a smile without your face muscles twitching. Therefore, photographers may have had their subjects assume a blank or seemingly stern expression -- which they could hold for a period of time. We were lucky. Our image was taken in full sunlight and we only had to hold the pose for ten seconds.
Another thought about the stern expressions is that getting your picture taken was an infrequent occurrence so it was a lot more serious moment. After all, you don't want to waste the expense of recording your image just to look like a grinning clown! If you look at the painted portraits of the civil war time as well as earlier periods, very few of those subjects were smiling.
Or maybe the people were just taking their cues from the painted portraits. Since those people hadn't appeared to smile, they may have seen no need to smile either.
Regardless of facial expression, another feature of the period photographic methods is their treatment of color. This subject is fully discussed in the article Virginia prepared for the February/March 1997 issue of Citizen's Companion. Summarizing rather simply, reds, oranges, and yellows usually photographed black. Light blues photographed white. The result was a lot of the people in period photographs look like they are ready for a funeral -- especially when coupled with their expressions discussed above. With the above information in mind, look at how our clothing colors were captured. Virginia's dress is wine red with black and white decorative elements. In the image, the wine and black blended together and only the white of the decorative elements appears. The most striking elements of Michael's attire are his cravat and vest. Where his bright gold cravat was horizontal, it photographed black. Where it was vertical, it photographed grey. His mustard and maroon plaid vest looks like it is vertical stripes.