Generally in Alphabetical Order but with Some Obvious Placement of a Couple of Categories at the Top

Home

Toys

Games

Dolls & Accessories

Articles: Virginia's Veranda

About Us & Picture

Books, Modern

Books, 19th Century Reproductions

Craft Supplies & Sundries

Documentation

Dolls & Accessories

DVD about Emma Edmonds

Games

Needlework Necessities and Novelties

Parlor Games & Entertainments

School Supplies

Sundries and Craft Supplies

Toys

Wholesale Information

Order Form

Ordering Information

Contact Us

Speaking and Consulting


Martine's Etiquette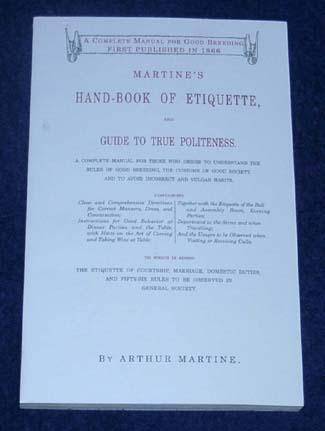 Etiquette books were quite popular during the nineteenth century as the general public tried to improve their appearance not only in their material presence but also in how they acted.
This book contains, as might be expected, guides for individual conduct in various social situations, including the following admonition from general rules for conversation:
"Never ask a lady a question about anything whatever."

Guidance is included for general conversation, for dinners and parties, for balls, for encounters on the street, and for visiting. There are even some guides for hosts and hostesses.
This is just one of many etiquette guides. One observer of the time period noted that she supposed that a lot of people must have been doing the opposite of what was advised. Otherwise, why note conditions where everyone is behaving properly. And when the guidance boldly states that something should "Never" be done because it is "extremely vulgar" could be an indication that quite a few individuals were still engaging in the practice.

Price: $14.95






If you want to look at the previous book in the list,
The Magic Lantern, No. 5,
click here
. .
If you want to look at the next book in the list,
McGuffey's Readers and Speller,
click here
.