Generally in Alphabetical Order but with Some Obvious Placement of a Couple of Categories at the Top

Home

Toys

Games

Dolls & Accessories

Articles: Virginia's Veranda

About Us & Picture

Books, Modern

Books, 19th Century Reproductions

Craft Supplies & Sundries

Documentation

Dolls & Accessories

DVD about Emma Edmonds

Games

Needlework Necessities and Novelties

Parlor Games & Entertainments

School Supplies

Sundries and Craft Supplies

Toys

Wholesale Information

Order Form

Ordering Information

Contact Us

Speaking and Consulting


The Magic Lantern, No. 5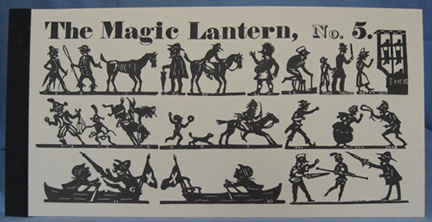 This book, published c1860, serves as a beginning to some of the period entertainment of the mid-nineteenth century. Magic lantern shows were quite popular, varying in complexity. This book contains figures to cut out and do shadow plays. You then attach the figures to slips of paper or strips of wood.
Although it comes with two short scripts, the reader is invited to make his or her own script, fitting the dialogue to the characters available.
While this set is numbered "5", leading you to suspect that there are other sets, those other sets haven't been published yet.
Paperbound.
Price: $12.00



If you want to look at the previous book in the list,
Madam Le Marchand's Fortune Teller,
click here
.
If you want to look at the next book in the list,
Martine's Hand-Book of Etiquette,
click here
.