Generally in Alphabetical Order but with Some Obvious Placement of a Couple of Categories at the Top

Home

Toys

Games

Dolls & Accessories

Articles: Virginia's Veranda

About Us & Picture

Books, Modern

Books, 19th Century Reproductions

Craft Supplies & Sundries

Documentation

Dolls & Accessories

DVD about Emma Edmonds

Games

Needlework Necessities and Novelties

Parlor Games & Entertainments

School Supplies

Sundries and Craft Supplies

Toys

Wholesale Information

Order Form

Ordering Information

Contact Us

Speaking and Consulting


The Knitter's Companion: Second Series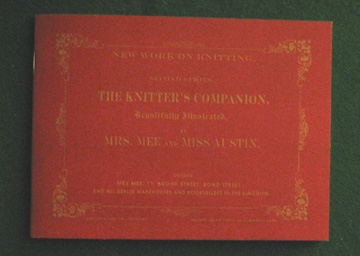 This is another high quality reproduction of knitting books by Mrs. Mee and Miss Austin. Like the other Knitter's Companion, it has no copyright date but does contain an ad that references 1862. The only element which is missing is that the cover states that the booklet is "beautifully illustrated" and this copy doesn't have any illustrations. We did not contact the publisher but we expect the illustrations were not in the original she was able to copy.
Also like the other knitting booklet, this, too, is a collection of knitting projects. The booklet contains 23 projects. They are as small as a baby's shoe or a knitted necktie (only an ounce of yarn in this later project) on up to much larger ones. The larger projects include such items as a quilt, a carriage wrapper, and a bassinette cover, each requiring between 2 and 3 pounds of yarn.
30 pages
Price: $ 5.95
Table of Contents of Projects:
Couvre Pied
Bassinette Cover
Baby's Shoe
Ditto

Knitted Mittens
Gentlemen's Knitted Sock
Youth's Knitted Sock
Couvrette
Couvre Pied in Stars
Quilt in Stripes
Boy's Knitted Stockings
ouvrette
Couvre Pied
Baby's Blanket
Antimacassar
Carriage Wrapper
Knitted Edging
Knitted Braid
Ditto

Open Trimmings for Children's Dressing
Warm Mitten
Warm Shawl
Knitted Necktie
Explanations


If you want to look at the previous book in the list,
The Knitter's Companion,
click here
.
If you want to look at the next book in the list,
The Language and Sentiment of Flowers,
click here
.