Generally in Alphabetical Order but with Some Obvious Placement of a Couple of Categories at the Top

Home

Toys

Games

Dolls & Accessories

Articles: Virginia's Veranda

About Us & Picture

Books, Modern

Books, 19th Century Reproductions

Craft Supplies & Sundries

Documentation

Dolls & Accessories

DVD about Emma Edmonds

Games

Needlework Necessities and Novelties

Parlor Games & Entertainments

School Supplies

Sundries and Craft Supplies

Toys

Wholesale Information

Order Form

Ordering Information

Contact Us

Speaking and Consulting


The Knitter's Companion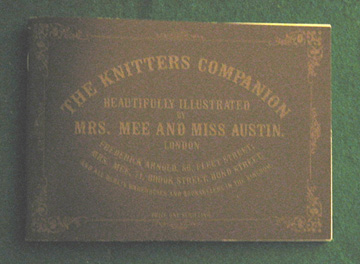 This is very good reproduction of a book that was originally published in the early 1860's (we really don't know because there is no copyright date. But another book with an October 1862 date in one of the ads in the back mentions this book).
The booklet has twenty-five knitting projects stated in the original period instructions. The projects range from small items, e.g., a baby's shoe, on through larger projects, e.g., an opera cap, on up to larger ones like a Shetland shawl or "warm petticoats for the poor" (this last project doesn't say how much yarn is needed but it suggests it as a way to use up leftovers of wool).
39 pages
Price: $ 6.95
Table of Contents of Projects:
Knitted Opera Cap
Ditto Garibaldi Jacket

Baby's Shoe
Counterpane in Squares
Ditto in Breadths

Another in ditto
Border in Counterpane
Couvrette or Antimacassar
Ditto ditto, No 2

Shetland Shawl
Couvre Pied or Sofa Blanket
Gentleman's Waistcoat
Sleeping Socks
Baby's Muff
Baby's Knitted Spencer
Baby's Blanket
Baby's Knitted Cape
Baby's Sock
Ladies' Under-Waistcoat
Chest Protector
Knitted Edgings for Trimming Children's things
Baby's Glove
Large Shetland Shawl
Knitted Gaiter
Warm Petticoats for the Poor




If you want to look at the previous book in the list,
The Kentucky Housewife,
click here
.
If you want to look at the next book in the list,
The Knitter's Companion: Second Series,
click here
.