Generally in Alphabetical Order but with Some Obvious Placement of a Couple of Categories at the Top

Home

Toys

Games

Dolls & Accessories

Articles: Virginia's Veranda

About Us & Picture

Books, Modern

Books, 19th Century Reproductions

Craft Supplies & Sundries

Documentation

Dolls & Accessories

DVD about Emma Edmonds

Games

Needlework Necessities and Novelties

Parlor Games & Entertainments

School Supplies

Sundries and Craft Supplies

Toys

Wholesale Information

Order Form

Ordering Information

Contact Us

Speaking and Consulting


The Language and Sentiment of Flowers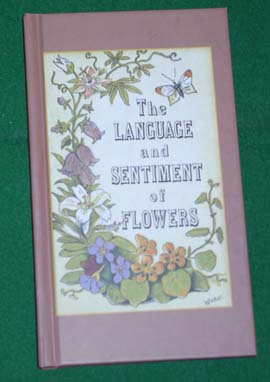 During the nineteenth century, various guides for the meaning of flowers were developed as one method to interest people in botany. This particular volume is by a nineteenth century author who did write during and after the civil but the exact publication date is unknown. However, the meanings contained in this book are similar to those from other books written before or during the civil war.
Of course, if someone wanted to send a message in flowers, an essential element is that the intended recipient of the message have a guide to floral meanings. And, although many books generally assigned the same meaning to certain flowers, sometimes the meanings differed. So, an equally important element was that the sender and receiver use the same manual, otherwise an intended compliment might be perceived as an insult!
96 pages. Hardbound.
Price: $12.95



If you want to look at the previous book in the list,
The Knitter's Companion: Second Series,
click here
.
If you want to look at the next book in the list,
Madam Le Marchand's Fortune Teller and Dreamer's Dictionary,
click here
.