Hand Book of Knitting and Netting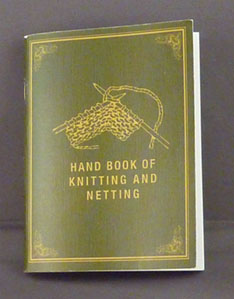 This book was originally published in 1849. It measures a scant 3 1/4 wide and 4 1/2 high but contains about 70 different sets of instructions for the combined techniques (A complete listing appears below). There are even some instructions for projects in tatting and berlin work. Because of its size, it is a convenient volume to tuck into a pocket or work basket.
64 pages. Paperbound.
$ 7.95
The projects contained in this book are the following:
Knitting Projects A New Stitch for Knitting
Eyelet-Hole Edge
Vandyke Border
Leaf Edge
Lace Edging
Valenciennes Lace
Narrow Edge
Broad Open Lace
Point Lace Pattern
Edging for Collar
Lace Collars - First Pattern
Lace Collar - Second Pattern
Lace Collar - Third Pattern
Honeycomb Knitting
Baby's Bonnet
Curtain
Anti-Macassar
Bonnet Cap
Brioche Stitich
Knitted Comforter
Double Knitting for Comforters
Insertion
French Cushion
Gimp Trimming
Fringe
Border and Fringe
Shetland Wool Ruffle
Gentleman's Slipper
[another] Gentleman's Slipper
Quilt
Spanish Bag
Turkish Bag
Bresage Shawl
Zephyr Handkerchief

Netting Projects
Bead Stitch
Netting with Shaded Silk
Purse - First Pattern
Purse - Second Pattern
Netted Sovereign Purse
Splendid Purse Netted
Lady's Netted Plain Purse
Seam Purse, with Beads
Netted Purse in Squares
The Best Method of Closing a Purse
Stitch Adapted for Curtain
Netted Toilet Cover
Netted Sofa Guard
Puff Netting
Netted Bag in Shaded Silk
Netted Bag
Honeycomb Netting
Mittens - First Pattern
Mittens - Second Pattern
Mittens - Third Patterns
Mat
Shawl
Shawl in Stripes
Vase Stand

Tatting Projects
Tatting for Trimmings
Open Stitch with Fine Bobbin
Star Tatting

Berlin work
The Frame and the Stitches
Velvet Stitich
German Diamond
Russian Pattern
Algerine Work
Gobelin Stitch
Victoria Pattern
Basket Stitch



Price: $7.95


If you want to look at the previous book in the list,
Hand Shadows and More,
click here
.
If you want to look at the next book in the list,
Handmaid to the Arts,
click here
.