Generally in Alphabetical Order but with Some Obvious Placement of a Couple of Categories at the Top

Home

Toys

Games

Dolls & Accessories

Articles: Virginia's Veranda

About Us & Picture

Books, Modern

Books, 19th Century Reproductions

Craft Supplies & Sundries

Documentation

Dolls & Accessories

DVD about Emma Edmonds

Games

Needlework Necessities and Novelties

Parlor Games & Entertainments

School Supplies

Sundries and Craft Supplies

Toys

Wholesale Information

Order Form

Ordering Information

Contact Us

Speaking and Consulting


Hand Shadows
and
More Hand Shadows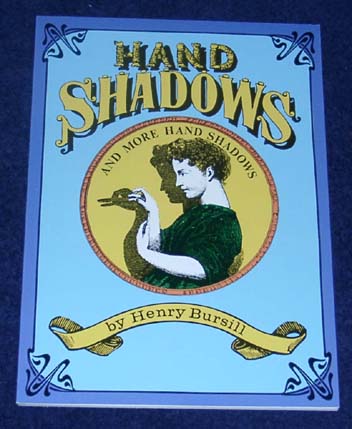 Originally published as two separate books in 1859 and 1860, they have been combined in this publication with the loss of only one illustration which was repeated in the original two editions.
The designs contained in this book are of amazing variety. During a workshop on period entertainments, all participants had the opportunity to try many of these shapes. What we can report is that some are relatively easy. Others require a bit of practice before making the silhouette shown in the picture. However, sometimes it is almost magical as you twist your hands and fingers around and then suddenly the image springs out before you.
The exercise of making hand shadows is fun for all ages. With the numerous canvas walls, candle lanterns defining points of light, and background darkness of a reenactment, the environment is almost custom made to produce many opportunities to produce shadow shows.

Price: $4.25






If you want to look at the previous book in the list,
The Girl's Own Book,
click here
.
If you want to look at the next book in the list,
Hand Book of Knitting and Netting,
click here
.