Handmaid to the Arts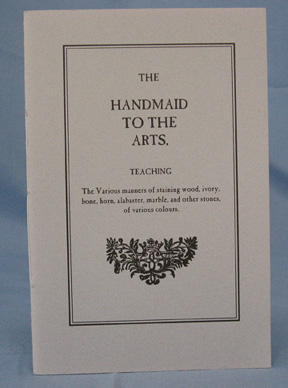 Originally published in 1764. This book does contain a warning from the publisher about the safety of the methods described in the book and the need to research the techniques before trying any of them to ensure safety.
The instructions contained in this book are for treating many materials not in common use today or easily purchased already treated. However, during the eighteenth century and, for some of the materials, continuing into the nineteenth century, if you wanted a different appearance to natural products, you had to introduce the coloring yourself. It includes ways to stain woods various colors, staining bone, ivory, or horn, and staining paper. Lastly, it tells how to stain stone.
The book concludes with a modern bibliography and glossary.
28 pages. Paperbound. $10.00







If you want to look at the previous book in the list,
Hand Book of Knitting and Netting,
click here
.
If you want to look at the next publication in the list,
Harper's Weekly,
click here
.