Home
Toys
Games
Dolls & Accessories
Books, Modern Books, 19th Century Reproductions DVD about Emma Edmonds Candy Craft Supplies & Sundries Parlor Games & Entertainments School Supplies Documentation

Articles: Virginia's Veranda Needlework Necessities and Novelties About Us & Picture Wholesale Information Order Form Ordering Information Contact Us Speaking and Consulting
Chess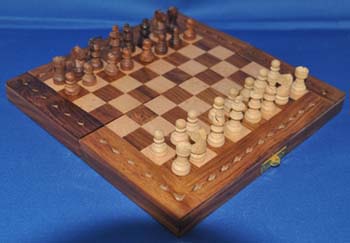 Chess has been hailed as the greatest of games, being a challenge for all level of players. It was included in numerous Hoyle's Rules of Games as well as boys' activities books.
This set has a border of wood on the bottom that, when the board is folded, forms a closed cavity that can be used to store the pieces. It is very similar to one on display in the Visitors' Center in Gettysburg. The biggest difference is that the original has the hinge on the other side so that the cavity is on the same side as the board. However, we haven't found anyone making a duplicate of that board.
The board is 8 inches long by 4 inches wide and 1 1/2 inches thick when closed and opens into a square 8 inches on a side and 3/4 inches thick.
Price: $ 24.25


If you want to look at the previous item in the list,
Cribbage,
click here. If you want to look at the next item in the list,
Chinese Puzzle,
click here.