Generally in Alphabetical Order but with Some Obvious Placement of a Couple of Categories at the Top

Home

Toys

Games

Dolls & Accessories

Articles: Virginia's Veranda

About Us & Picture

Books, Modern

Books, 19th Century Reproductions

Craft Supplies & Sundries

Documentation

Dolls & Accessories

DVD about Emma Edmonds

Games

Needlework Necessities and Novelties

Parlor Games & Entertainments

School Supplies

Sundries and Craft Supplies

Toys

Wholesale Information

Order Form

Ordering Information

Contact Us

Speaking and Consulting


Beadle's Dime Chess Instructor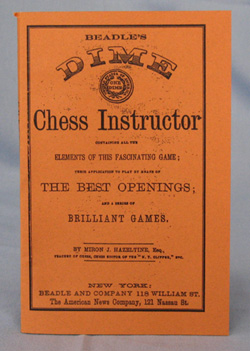 Chess was mentioned in many boy's activity books and chess sets were widely advertised in newspapers so we would assume it was a moderately popular game.
The copyright date in this reproduction isn't clear but it looks like the original was published in 1864. It starts with basic information about each of the pieces, terms, and the "Laws of Chess. Then it develops into a discussion of more complicated moves and concludes with a collection of classic openings. A useful book for the beginner and also for someone wanting to improve his or her game.
80 pages. Paperbound.
Price: $ 9.95



If you want to look at the previous book in the list,
American Spelling Book,
click here
.
If you want to look at the next book in the list,
Beadle's Dime Book of Croquet,
click here
.