Generally in Alphabetical Order but with Some Obvious Placement of a Couple of Categories at the Top

Home

Toys

Games

Dolls & Accessories

Articles: Virginia's Veranda

About Us & Picture

Books, Modern

Books, 19th Century Reproductions

Craft Supplies & Sundries

Documentation

Dolls & Accessories

DVD about Emma Edmonds

Games

Needlework Necessities and Novelties

Parlor Games & Entertainments

School Supplies

Sundries and Craft Supplies

Toys

Wholesale Information

Order Form

Ordering Information

Contact Us

Speaking and Consulting


American Spelling Book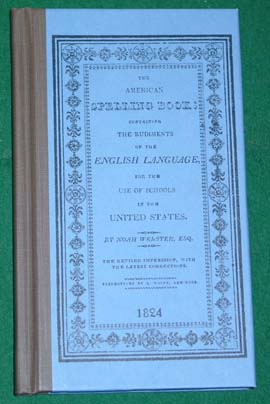 This was evidently a classic publication for teaching spelling. Originally published in 1788, the source for this edition was 1824, and we have evidence from the Adkisson ledger (one of the ledgers transcribed in Historic Accounts) that it was still being sold in the late 1850's -- a time span of more than 60 years. Besides spelling, the book contains guidance for pronunciation, discussions of units of measure, an abundance of short segments which impart lessons in morals, a few Aesop's fable, and concluding with "A Moral Catechism."
Since school books like this one never went out of date, it could easily have been found on the desk of a child even in the 1860's.
168 pages. Hardbound.
Price: $14.95

If you want to look at the previous book in the list,
American Orchardist,
click here
.
If you want to look at the next book in the list,
Beadle's Dime Chess Instructor,
click here
.