Generally in Alphabetical Order but with Some Obvious Placement of a Couple of Categories at the Top

Home

Toys

Games

Dolls & Accessories

Articles: Virginia's Veranda

About Us & Picture

Books, Modern

Books, 19th Century Reproductions

Craft Supplies & Sundries

Documentation

Dolls & Accessories

DVD about Emma Edmonds

Games

Needlework Necessities and Novelties

Parlor Games & Entertainments

School Supplies

Sundries and Craft Supplies

Toys

Wholesale Information

Order Form

Ordering Information

Contact Us

Speaking and Consulting


Seventy-Five Receipts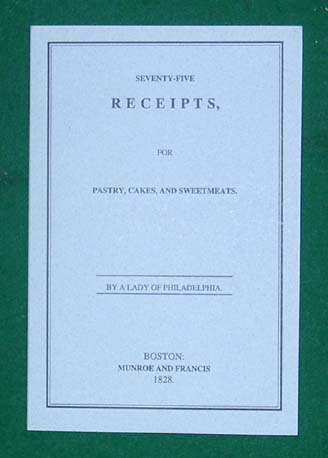 The title says it all. And for those unfamiliar with the term, sweetmeats includes mainly jams, jellies, and preserves.
One element that makes this cookbook interesting is that, of the four that we carry, this is the only one with "modern" receipts. By that, I mean that this is the only book of the four where a recipe begins with a listing of all the ingredients followed by the instructions for preparing the item. Since it predates the other two cookbooks, one can only surmise that the method didn't find favor with other cookbook writers.

Price: $9.95















If you want to look at the previous book in the list,
Ray's Arithmetic Series,
click here
.
If you want to look at the next book in the list,
The Sociable or 1001 Home Amusements,
click here
.