Generally in Alphabetical Order but with Some Obvious Placement of a Couple of Categories at the Top

Home

Toys

Games

Dolls & Accessories

Articles: Virginia's Veranda

About Us & Picture

Books, Modern

Books, 19th Century Reproductions

Craft Supplies & Sundries

Documentation

Dolls & Accessories

DVD about Emma Edmonds

Games

Needlework Necessities and Novelties

Parlor Games & Entertainments

School Supplies

Sundries and Craft Supplies

Toys

Wholesale Information

Order Form

Ordering Information

Contact Us

Speaking and Consulting


Crossing the Plains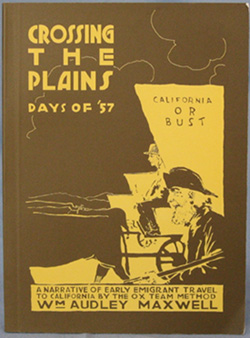 by William Audley Maxwell. Although this is a recollection and the information has certainly been colored somewhat by the passage of time, the memories seem clear enough to give an image of his travels.
The very beginning of his book starts to dent some of the Hollywood mystique about emigrant trains. In his train are 37 persons in eight wagons -- not exactly the long column that is so photogenic for the movies. His accounts recount the experiences of someone encountering the landscape of the West and all it contained for the first time. It is an excellent source of information about how the early emigrants viewed the vast territory of the Rocky Mountain west that is crossed so easily now on interstate highways.
If a negative comment could be made, the author does discuss disproportionately the real or threatened Indian attacks, including one assisted by some white settlers. In this latter attack, one of the settlers was captured, tried, and executed by the emigrants. Whether his discussion of the savageness of the Indian attacks was to provide a justification for the settlers treatment of the Indians we can only guess. But that discussion, too, yields clues about the attitudes of the people of the time concerning the Indians.
179 pages. Paperback.
Price: $ 16.95



If you want to look at the previous book in the list,
The Confederate Receipt Book,
click here
.
If you want to look at the next book in the list,
The Domestic Physician and Family Assistant,
click here
.