Generally in Alphabetical Order but with Some Obvious Placement of a Couple of Categories at the Top

Home

Toys

Games

Dolls & Accessories

Articles: Virginia's Veranda

About Us & Picture

Books, Modern

Books, 19th Century Reproductions

Craft Supplies & Sundries

Documentation

Dolls & Accessories

DVD about Emma Edmonds

Games

Needlework Necessities and Novelties

Parlor Games & Entertainments

School Supplies

Sundries and Craft Supplies

Toys

Wholesale Information

Order Form

Ordering Information

Contact Us

Speaking and Consulting


The Domestic Physician and Family Assistant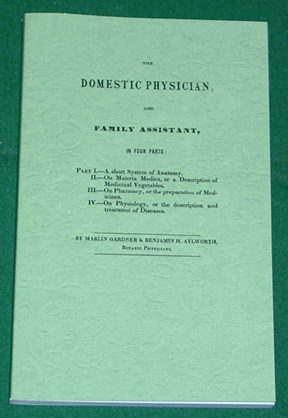 THIS IS NOT A MEDICAL BOOK TO BE USED TO TREAT ILLNESSES. IT IS A HISTORIC REPRODUCTION TO PROVIDE A HISTORIC CONTEXT FOR NINETEENTH CENTURY MEDICINE.
During the nineteenth century, not every ailment merited a trip to the doctor. And even if you did visit the doctor or have the doctor come to your house, the progress of medicine still included many ineffective and sometimes even harmful treatments. As an alternative, self-treatment using herbal or other ingredients available in the stores was possible, using medical lore passed down from your mother or other relative. Books like this one also were references for medical advice. Some of the cures will be familiar while others may be something new to the reader. There is no evaluation of the efficacy of the different treatments.
By the way, one listing of prices we consulted indicated that an office visit to a doctor was $1.25 and a house call was $2.00.
AS MENTIONED EARLIER, THE TREATMENTS IN THIS BOOK ARE FOR HISTORIC CONTEXT ONLY AND MUST NOT BE USED FOR ACTUAL TREATMENT OF AILMENTS.
$12.95 Paperbound



If you want to look at the previous book in the list,
Crossing the Plains,
click here
.
If you want to look at the next book in the list,
The Education of a Daughter,
click here
.