Generally in Alphabetical Order but with Some Obvious Placement of a Couple of Categories at the Top

Home

Toys

Games

Dolls & Accessories

Articles: Virginia's Veranda

About Us & Picture

Books, Modern

Books, 19th Century Reproductions

Craft Supplies & Sundries

Documentation

Dolls & Accessories

DVD about Emma Edmonds

Games

Needlework Necessities and Novelties

Parlor Games & Entertainments

School Supplies

Sundries and Craft Supplies

Toys

Wholesale Information

Order Form

Ordering Information

Contact Us

Speaking and Consulting


Looms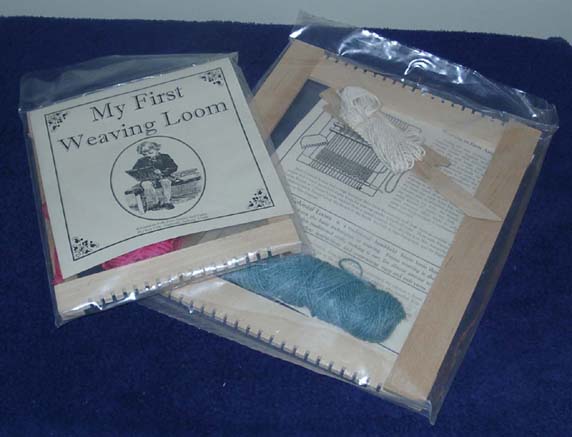 These looms are very small and simple looms but can be used to produce a surprising number of pattern variations. They are most useful to inexpensively demonstrate the process of weaving although they contain instructions for joining the woven pieces together to make larger finished pieces -- kind of like assembling patchwork quilt squares.
A majority of the cloth used during the civil war was produced commercially, a lot being woven in New England (if you want to learn more about the textile industry, you would be well advised to visit the Lowell National Historic Site in Lowell, MA, and the private textile museum that is in the vicinity) or in Europe. However, in the book _Children of Bladensfield_ which is about some children growing up on the Northern Neck in Virginia before and during the civil war, the author mentions that some of their cloth was woven by a woman who lived in the vicinity of their home. These looms, while much smaller than any commercial loom or home-use looms, they can be used to illustrate how weaving was done since the principles are the same.
The looms are shown here in their packaging. We'll be working on getting a picture of each one set up so that you can see better what they look like. Tune in to later updates of the page.
The price of the looms is: First Weaving Loom $12.50 Colonial Loom $15.85



If you want to look at the previous item in the list,
the Tatting Kit,
click here
.
If you want to look at the next item in the list,
Weaving Looms, Rigged Heddle,
click here
.