Generally in Alphabetical Order but with Some Obvious Placement of a Couple of Categories at the Top

Home

Toys

Games

Dolls & Accessories

Articles: Virginia's Veranda

About Us & Picture

Books, Modern

Books, 19th Century Reproductions

Candy

Craft Supplies & Sundries

Documentation

Dolls & Accessories

DVD about Emma Edmonds

Games

Needlework Necessities and Novelties

Parlor Games & Entertainments

School Supplies

Sundries and Craft Supplies

Toys

Wholesale Information

Order Form

Ordering Information

Contact Us

Speaking and Consulting

Jacks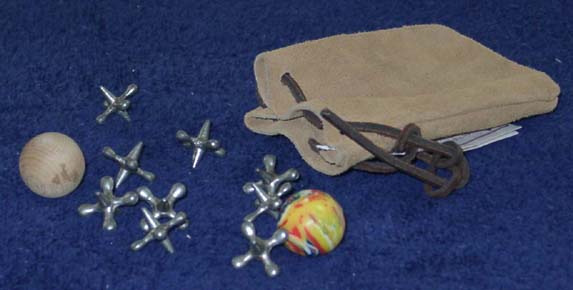 The model for these jacks was a specimen discovered at an archeological dig. Although the set comes with both rubber and wooden balls, the period method of playing used no ball. All the jacks were cast and then the player chose one of the jacks to toss. This jack was then tossed up while scooping up another jack and then catching the tossed jack before it hit the ground. As long as the player was successful in scooping a jack and catching the tossed one, his or her turn continued. If all the jacks are picked up successfully one by one, then the jacks are cast again and the process repeated except that two jacks are picked up with each scoop. And so on through three's, four's, and so on.
If you wish to use a ball, use the wooden ball like the tossed jack described above, that is, it is caught before it hits the ground (it doesn't bounce well) or use the rubber ball and catch it on the first bounce.

The cost of a set of jacks is $7.95.


If you want to look at the previous game in the list,
Graces and Graces Replacement Hoops,
click here
.
If you want to look at the next game in the list,
Marbles,
click here
.