Generally in Alphabetical Order but with Some Obvious Placement of a Couple of Categories at the Top

Home

Toys

Games

Dolls & Accessories

Articles: Virginia's Veranda

About Us & Picture

Books, Modern

Books, 19th Century Reproductions

Craft Supplies & Sundries

Documentation

Dolls & Accessories

DVD about Emma Edmonds

Games

Needlework Necessities and Novelties

Parlor Games & Entertainments

School Supplies

Sundries and Craft Supplies

Toys

Wholesale Information

Order Form

Ordering Information

Contact Us

Speaking and Consulting


The Favourite Book of Fables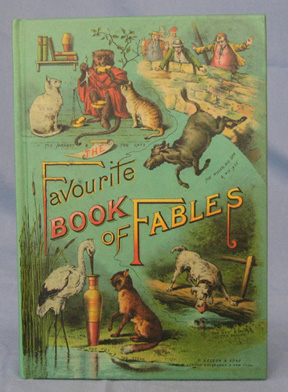 Though not heard as much today, beast fables were an ancient device used to teach moral lessons, the most famous being those of Aesop. This book is a collection of Aesop's fables, each a moderately short story concluding with a moral. Although this book was originally published in 1890, the stories themselves are of ancient lineage. We have a version in our collection from the 1820's but the stories are the same.
This book would be a great reference by itself because the stories and their morals are still applicable today. It would also be a handy source for doing story programs with children.
Hardbound 128 pages
$ 20.00



If you want to look at the previous book in the list,
The Fashionable Dancer's Casket,
click here
.
If you want to look at the next book in the list,
The Florist's Manual,
click here
.