Generally in Alphabetical Order but with Some Obvious Placement of a Couple of Categories at the Top

Home

Toys

Games

Dolls & Accessories

Articles: Virginia's Veranda

About Us & Picture

Books, Modern

Books, 19th Century Reproductions

Craft Supplies & Sundries

Documentation

Dolls & Accessories

DVD about Emma Edmonds

Games

Needlework Necessities and Novelties

Parlor Games & Entertainments

School Supplies

Sundries and Craft Supplies

Toys

Wholesale Information

Order Form

Ordering Information

Contact Us

Speaking and Consulting


A Plain Cookery Book for the Working Classes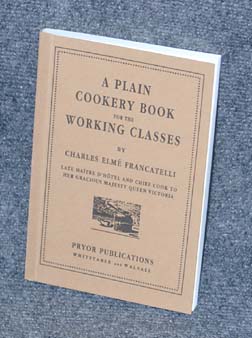 Although oriented toward English cuisine, the recipes remind one of the many of the receipts in Godey's or Peterson's, especially when they made use of parts of animals that aren't found in your local grocery any more. The recipes produce what would be considered ordinary fare. They also include recipes for very bland preparations that in Godey's would be identified as recipes for invalids.
Paperbound 105 pages
Price: $12.30



If you want to look at the previous book in the list,
Personal Beauty,
click here
.
If you want to look at the next publication alphabetically in the list,
the Pollock's Toy Theater,
click here
.