Generally in Alphabetical Order but with Some Obvious Placement of a Couple of Categories at the Top

Home

Toys

Games

Dolls & Accessories

Articles: Virginia's Veranda

About Us & Picture

Books, Modern

Books, 19th Century Reproductions

Craft Supplies & Sundries

Documentation

Dolls & Accessories

DVD about Emma Edmonds

Games

Needlework Necessities and Novelties

Parlor Games & Entertainments

School Supplies

Sundries and Craft Supplies

Toys

Wholesale Information

Order Form

Ordering Information

Contact Us

Speaking and Consulting


Book of Parlour Games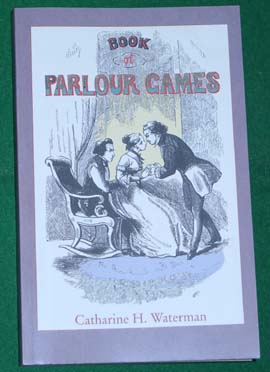 The publisher of this book is currently out of stock. We have requested copies when it is printed again but we don't know when that will occur. We will post a notice here when the book is again available.

This book, translated from a French volume in 1854, was another major source for adult entertainments. Although I have seen books from 1829 for children's activities, this title is the earliest American book I have seen dedicated to the topic of entertainment for adults.
The book is split almost in half between parlor games and mind puzzles. People already familiar with period parlor games may find some that are familiar. However, even though there are some of similar name or the directions seem almost the same, there are some variations that demonstrate the small differences that occur. There are also many games unique to this volume.
The second half of the book is devoted to mind puzzles that are found only in this book. They are of a form not familiar to many modern readers. However, to avoid excessive frustration, the answers are supplied.
Also see The Sociable
288 pages. Paperbound
Price: $16.95







If you want to look at the previous book in the list,
Paper Dolls and How to Make Them,
click here
.
If you want to look at the next book in the list,
Personal Beauty,
click here
.