Generally in Alphabetical Order but with Some Obvious Placement of a Couple of Categories at the Top

Home

Toys

Games

Dolls & Accessories

Articles: Virginia's Veranda

About Us & Picture

Books, Modern

Books, 19th Century Reproductions

Craft Supplies & Sundries

Documentation

Dolls & Accessories

DVD about Emma Edmonds

Games

Needlework Necessities and Novelties

Parlor Games & Entertainments

School Supplies

Sundries and Craft Supplies

Toys

Wholesale Information

Order Form

Ordering Information

Contact Us

Speaking and Consulting


The New Knitter
or
Lady's Work Table Companion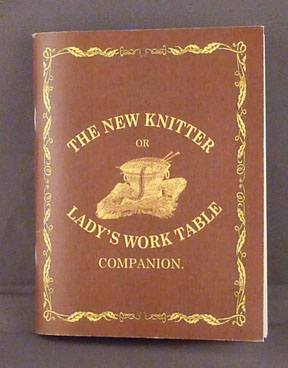 Originally published in England in 1848, this small book (5 inches high by 4 inches wide) 1848 is a very close reproduction of the original. It contains a wide variety of knitting patterns although only three patterns are for entire garments. Those are patterns for a baby's turban hood, a knitted shoe, and cuffs or baby's socks. The rest of the patterns are for decorative items, such as trim, lace edging,d'Oyleys, and covers. There are some engravings showing the finished projects and some are absolutely gorgeous but, from a beginning knitter, don't look like I would tackle them. A much more experienced knitter like my wife would probably need to concentrate when starting to get the feel for the pattern.
The main body of the book is reproduced to look just like the original. However, it has an added bonus at the back. The publisher included two pages of black and white photographs of samples that were found inserted into her original.
Paperbound 72 pages
$ 8.95
Listing of Projects:
Coral Cuffs with Lace Edging
Leaf Edging
Double German Edging
Lace Edging for d'Oyleys
Baby's Turban Hood
Toilette Cushion
Fan and Eyelet Hole Pattern
Maltese Pattern for Couvrette
Melon Pattern for d'Oyley
Grecian Net and Leaf Pattern
Feather Edging for Toilette Cushion
Handsome Branch Pattern
Sea Weed Spray
Couvrette for Chair Arms
Couvrette for Ottoman
Small Leaf
Swiss Pattern
Cockle Shell Edging
Acacia Pattern
Elegant Lace, Turkish Pattern
Round d'Oyley
[another] Round d'Oyley
Diagonal Check
Raised Stripe
Pretty Pattern for Cuffs or Baby's Socks
A Round d'Oyley
Coralline Pattern


If you want to look at the previous book in the list,
Mrs. Hills New Cook Book,
click here
.
If you want to look at the next book in the list,
Paper Dolls and How to Make Them,
click here
.