American Folk Toys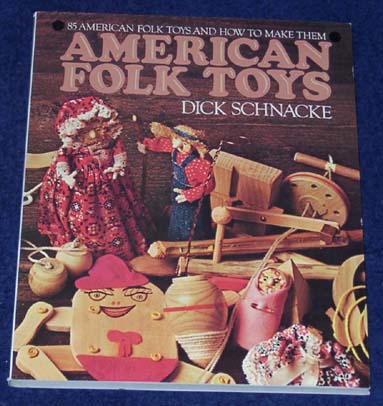 The author of this book, Dick Schnacke, has been one of the leaders in the making of folk toys. He started making the in the 1960's and has only recently retired. While not all the toys he makes are appropriate for use in a civil war impression, many of them are correct for that time period.
The drawings and instructions contained in this book would do credit to some of the hobby magazines devoted to woodworking. They would be very understandable to the experienced woodworker and would still be useful to the casual hobbyist. Depending upon your skill, of course, the product may vary from looking exactly like the toy illustrated to something that looks -- well, let's just say "different.
This would be an excellent gift book for a relative who likes to do woodworking and has children, nieces, nephews, or grandchildren who would appreciate some hand-made gifts or for someone wanting to do some items for a flea market or church bazaar.

A copy of American Folk Toys cost 10.95





If you want to look at the next book in the list,
American Children's Games,
click here
.