Generally in Alphabetical Order but with Some Obvious Placement of a Couple of Categories at the Top

Home

Toys

Games

Dolls & Accessories

Articles: Virginia's Veranda

About Us & Picture

Books, Modern

Books, 19th Century Reproductions

Craft Supplies & Sundries

Documentation

Dolls & Accessories

DVD about Emma Edmonds

Games

Needlework Necessities and Novelties

Parlor Games & Entertainments

School Supplies

Sundries and Craft Supplies

Toys

Wholesale Information

Order Form

Ordering Information

Contact Us

Speaking and Consulting


Beadle's Dime Family Physician
NOTE: THIS BOOK IS INTENDED FOR EDUCATIONAL PURPOSES ONLY TO SHOW THE MEDICAL PRACTICES OF THE MID-NINETEENTH CENTURY AND IS NOT INTENDED TO BE USED AS A RECOMMENDATION FOR MEDICAL TREATMENT. SOME OF THE PRACTICES RECOMMENDED IN THIS BOOK HAVE BEEN FOUND TO BE HARMFUL INSTEAD OF CURATIVE.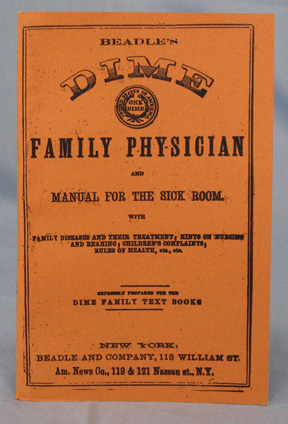 Originally printed in 1861. Most of the treatments contained in this book are for illnesses with only a short discussion of treatment for accidents. The diseases are grouped by category, e.g., diseases of the skin, although some of the names of ailments will be unknown to modern readers. It contains treatment for about 90 diseases. Also interesting to note is that under the ailment of "Painter's Colic," the effects of lead poisoning were already recognized.
The last two discussions are of particular interest to mothers of the time period in that they address management of the sick room and diseases of children.
79 pages. Paperbound.
Price: $ 9.95



If you want to look at the previous book in the list,
Beadle's Dime Guide to Dress-Making and Millinery,
click here
.
If you want to look at the next book in the list,
Beadle's Dime Letter Writer,
click here
.