Generally in Alphabetical Order but with Some Obvious Placement of a Couple of Categories at the Top

Home

Toys

Games

Dolls & Accessories

Articles: Virginia's Veranda

About Us & Picture

Books, Modern

Books, 19th Century Reproductions

Craft Supplies & Sundries

Documentation

Dolls & Accessories

DVD about Emma Edmonds

Games

Needlework Necessities and Novelties

Parlor Games & Entertainments

School Supplies

Sundries and Craft Supplies

Toys

Wholesale Information

Order Form

Ordering Information

Contact Us

Speaking and Consulting


Every Man His Own Doctor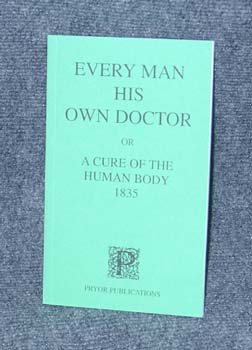 THIS IS NOT A MEDICAL BOOK TO BE USED TO TREAT ILLNESSES. IT IS A HISTORIC REPRODUCTION TO PROVIDE A HISTORIC CONTEXT FOR NINETEENTH CENTURY MEDICINE.
It is coincidental that both books on medicine are sequential in an alphabetic listing and were originally published within on year of each other, this one being published in 1835. This one makes use of many herbal ingredients but also uses chemicals that, if you visit an 18th or 19th century apothecary, you will find written on the containers on the apothecary's shelves. Then, not being content just to cure ills, there is a brief section with receipts for cleaning textiles or other items and a few other receipts for household purposes. Toward the end, you are also instructed with several cures for diseases in cows, horses, and sheep. Finally, there is a couple of pages with the therapeutic uses of electricity.
AS MENTIONED EARLIER, THE TREATMENTS IN THIS BOOK ARE FOR HISTORIC CONTEXT ONLY AND MUST NOT BE USED FOR ACTUAL TREATMENT OF AILMENTS.
Paperbound 59 pages
$ 9.80



If you want to look at the previous book in the list,
Etiquette and the Usages of Society,
click here
.
If you want to look at the next book in the list,
The Family Nurse,
click here
.