Dates of Selected Inventions and Occurrences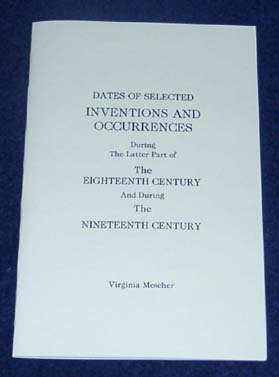 Not much can be said for the plot of this book -- it has none. But, as a source of information it is invaluable. The first list progresses through the years and mentions the varying inventions or events that occurred in chronological order. The second list consists of the items in alphabetical order crossreferenced back to the first.
In developing an impression or performing historic interpretation, knowing when an item is invented will determine whether that item is appropriate to use in the interpretive effort. For example, in interpreting the civil war period, a zipper would not be appropriate because that device wasn't invented until decades later. Conversely, a laundry wringer of the proper design would be appropriate, since that item was developed in 1850.
The book also contains an extensive bibliography. For an item that is appropriate to the period in question, the sources can be consulted to find out further information.

Price: $3.50

This book is available wholesale for resale.








If you want to look at the previous book in the list,
American Children's Games,
click here
.
If you want to look at the next book in the list,
Did They Eat That?,
click here
.