Cedar Pencils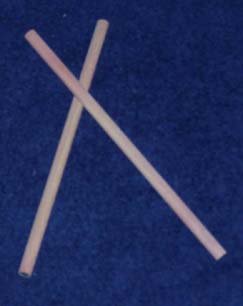 For making marks on paper, a pencil was often used. A pencil had the added advantage over ink in that it was always waterproof.
A common type of pencil looked very much like today's ordinary pencils. The pencils were often unpainted wooden cylinders of cedar and the period leads were square instead of round like they are today. The bright yellow common in pencils today didn't appear until decades after the civil war. The eraser attached to the end also was a later development.
The Steamboat Arabia (seems like we've mentioned that boat a few times. It is really worth a trip to Kansas City to see. Check out www.1856.com to get some information about the museum). was carying both regular pencils like these as well as a few pencils that looked like what we would call "carpenter's pencils."
And if you really want to learn about pencils, contact Camp Chase Gazette for information about obtaining a reprint of the August-September 2002 copy of The Citizen's Companion for an article about pencils.





If you want to look at the next item in the list,
Slates,
click here
.