Generally in Alphabetical Order but with Some Obvious Placement of a Couple of Categories at the Top

Home

Toys

Games

Dolls & Accessories

Articles: Virginia's Veranda

About Us & Picture

Books, Modern

Books, 19th Century Reproductions

Craft Supplies & Sundries

Documentation

Dolls & Accessories

DVD about Emma Edmonds

Games

Needlework Necessities and Novelties

Parlor Games & Entertainments

School Supplies

Sundries and Craft Supplies

Toys

Wholesale Information

Order Form

Ordering Information

Contact Us

Speaking and Consulting


Solid Bluing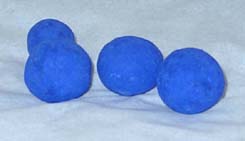 The bluing balls are about the size of marbles. We use three or four of the balls in the bluing bag. To close the bag, we tie a string tightly around the neck of the bag and then the bag can be hung in an out of the way (but still handy and still visible so you can discuss the bag with spectators) place to dry after the rinse water is adequately blued. There is no standard for how long the bluing will last because various factors, for example, how blue you get the water or how much water you use, will determine its duration.

Prices: 1 ounce $1.50
4 ounces $4.00
8 ounces $7.00






If you want to look at the previous item in the list,
Beeswax,
click here
.
If you want to look at the next item in the list,
Emery,
click here