Generally in Alphabetical Order but with Some Obvious Placement of a Couple of Categories at the Top

Home

Toys

Games

Dolls & Accessories

Articles: Virginia's Veranda

About Us & Picture

Books, Modern

Books, 19th Century Reproductions

Candy

Craft Supplies & Sundries

Documentation

Dolls & Accessories

DVD about Emma Edmonds

Games

Needlework Necessities and Novelties

Parlor Games & Entertainments

School Supplies

Sundries and Craft Supplies

Toys

Wholesale Information

Order Form

Ordering Information

Contact Us

Speaking and Consulting


Black Rolled Fabric Doll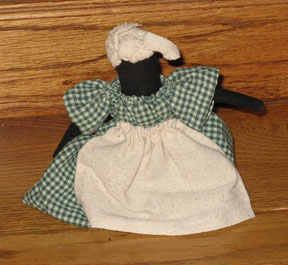 As was mentioned in the discussion of the rolled fabric doll kits, the Mordecai House in Raleigh, North Carolina, had a display case containing a collection of rolled fabric dolls from the 1850's. Among the dolls in the display case were four black dolls.
Be sure and read a bit about the history of these dolls on the previous page about the Rolled Fabric Doll Kit. One element that we did not mention in that description was the beginning of the instructions for making the black doll. The instructions began with an explanation that the black doll was made "just like the doll on the previous page." Probably without intending it, they made a very strong statement for equality!
And, like our other dolls, be sure and name your doll. We have not pre-named them because you may have some special name to give them.
$16.50 each



If you want to look at the previous doll in the list,
the Finished Rolled Fabric Doll,
click here
.
If you want to look at the first item in the doll accessories,
Miniature Playing Cards,
click here
.